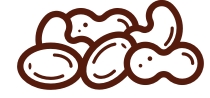 Products
We are engaged in the import and export of quality Nuts, Seeds, and Dried fruit goods. Our team is made of professionals from the agricultural sector with a lot of experience in the trading of the three main products sold here. We believe in the. We have new cropped products for sale or Purchase seeds online / Purchase nuts products online
With a lot of focus on quality customer service, we aim to provide a solution to our customers anywhere across the World. Even though the process of buying online is sometimes very complicated; for the last several years; we've decided to take the next step to ensure that our clients can access our stuff from coast to coast. Through secured exportation of Quality nuts / Fast shipping of quality seeds / Export and import of Dried fruits products
Where to buy Nuts, Seeds, and Dried fruits.
Mr. Nuts Wholesales online store is one of the national and worldwide pioneers when it comes to providing Nuts, Seeds, and Dried fruit products at cheap prices with nothing but the best quality ever. It is now possible to purchase your Dried fruits online. Purchase nuts products online. Purchase your Seeds products online and have it delivered at your exact desired delivery location. New cropped products for sale
You can now order nuts and seeds online, our online service is available 24/7. The process is very easy and everything is explained step by step. If you have any questions there is a phone number provided or leave us a message on WhatsApp using the icon. Our product shipping service is in fact very transparent, fast and innovative. Lear more about us.
We have a constant supply of nuts, dried fruits and seeds for sale online at very good prices. These ranges from Chickpeas nuts, Pumpkin seeds, Sunflower seeds, Linseeds/Flaxseeds Sesame seeds, Watermelon seeds, Kalonji seeds, Lotus seeds, Basil seeds, Alfalfa Seeds, Poppy seeds, Hemp seeds, Almond nuts, Brazil Nuts , Cashew Nuts, Hazelnuts, Macadamia Nuts, Peanuts, Walnuts, Pine Nuts, Pistachio Nuts, Chia seed, Banana dried fruits, Pecan Nuts, Dried blackberry wholesale, Dried coconut wholesale, Dried Apricots wholesale, Dried Cherry fruit wholesale,  Tiger nuts, Chestnuts products. You should do business with us because we understand the needs of our customers.
Mr. Nuts Wholesales equally pay attention to the quality of all our goods. You can find the list of our available product here.